Welcome to Hamilton-Parsons Elementary School!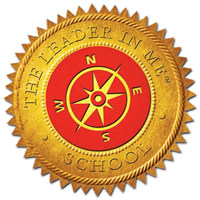 We are a K through 5th grade Elementary School. The Michigan Department of Education has designated Hamilton-Parsons Elementary School as a Michigan Blue Ribbon Exemplary School. The Blue Ribbon, the most prestigious education award in the state, distinguishes Hamilton-Parsons Elementary School for their excellence in student achievement, teaching, leadership, academics and curriculum, parent involvement and community support. We are also a Leader in Me School.
Jeans for a Cause
PLC Wednesdays and Fridays will be casual days for our staff at Hamilton-Parsons Elementary. In order for staff to dress casually, they will be donating money. We will be using the money collected to make a positive contribution to our community.
Hamilton-Parsons Elementary was built in 1975. A committee was formed to select names for the school. From those selected were the finalists of Betty Hamilton and Elizabeth Parsons. Each of them were educators who at the heart believed that children should be treated and supported as individuals and it was their job each to make them feel they are a valuable member of the class. There legacy, and love of learning, is carried on in our leadership mantra and were leaders in the community.

Important Announcements
Here are some important things you need to know about Ham-Par:
Vision Statement: We choose to empower students by teaching life-long habits so that they are prepared to succeed today, tomorrow, and always.
Mission Statement: Hamilton-Parsons... Learners, Leaders, Bulldogs Forever!
If there is anything on this website that you cannot access, please call the Technology Department at 586-281-1263